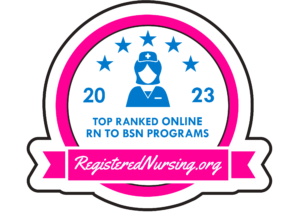 Siena Heights University's (SHU) Online RN to BSN Program was recently ranked fifth in the state by RegisteredNursing.org on their "2023 Best Online RN to BSN Programs in Michigan" list. To compile the information for their rankings, RegisteredNursing.org used data from the Integrated Postsecondary Education Data System (IPEDS), the National Center for Education Statistics (NCES), the U.S. Department of Education's Office of Postsecondary Education (OPE), and the Council for Community and Economic Research.
Points were given to each institution based on accreditation, presence of online programs, ratio of total nurse program completions versus total program completions awarded by the institution, annual tuition and fees adjusted for each county's cost of living, ratio of tenured instructional faculty, acceptance rate percentage, and graduate rate at 150% of normal time. After the points were totaled for each Nursing Program, the schools were ranked from highest to lowest total points.
Of this accomplishment, Assistant Dean of Academics-Nursing and Heath Sciences Division, Dr. Joanne Yastik said, "We are extremely proud of our online RN to BSN program. This recognition serves to validate the hard work of our dedicated faculty to ensure a relevant, quality curriculum that addresses the knowledge and skills needed by RN's practicing in today's healthcare environment."
This curriculum for SHU's RN to BSN program is designed to give graduates the knowledge and adaptive thinking skills that develop the ability to recognize unexpected situations, quickly consider possible responses, and decide on the best one. Now more than ever, these skillsets are essential in the world of healthcare and nursing. By incorporating these principles into the courses, nurses from the program are better prepared to adapt to changing work conditions in any environment, while also helping integrate Siena's mission of being competent, purposeful, and ethical into their workplace practices.
Dr. Karen Howatt, RN to BSN and MSN Program Director said this of the program: "The SHU RN to BSN program is not just a degree, but an opportunity to build upon the foundation of nursing knowledge and experience already obtained, expanding one's capability for practice and empowering nurses to make an even greater impact in the healthcare field."
More information on Siena Height's Online RN to BSN Program can be found here.